No Longer Registered
Join Date: Sep 2008
Location: Beckville, TX
Posts: 130
What kind of audio set ups does everyone have?
---
I am going to make my own custom system with 2-tweeters, 2-6 1/2 speakers, and maybe a 8" sub. So what is everyone else doing.
Join Date: Oct 2008
Posts: 9
we make front pods, rear pods and a sub box. parts are coming... Bare with me and I'll post pics soon. Parts should be ready before Halloween.
Check us out if your not framiliar:
SSV Works - Side by Side Vehicle Specialists
Trevor
No Longer Registered
Join Date: Sep 2008
Location: Beckville, TX
Posts: 130
Can't wait to see what it will look like I love all you other set-ups.
Founding Member
Join Date: Oct 2008
Location: Oklahoma
Posts: 17
I am gonna do mine pretty soon as well. I have a Sony head unit and speakers to install. I bought the marine cover for the face. I haven't been able to talk myself into cutting out the cubby hole in the dash to mount it, though. There is room above it in the spot that says arctic cat, but only for the stereo, not for the cover. I am needing to do a rear cage, as I have already added the rear seats, so I am probably going to make an aluminum roof, and put the stereo in a pod under it.
post pics as you go! it is fun to watch other folks work on their builds!
---
http://utvweekly.com/index.php/2009/11/ricks-arctic-cat-prowler-1000/
Join Date: Oct 2008
Posts: 3
Stereo
---
sorry, no pic at this time but i have a PROBOX in the roof. 4-speaker x-configuration. Just this weekend I replaced my alpine head unit with a new jvc with front usb. Now I have around 900 songs on a flash drive that are in folders and I don't have to listen to and skipping cd in the pasture. Works great, been using similiar setup in my trucks for 2 years. I really like the looks of the probox and sounds great.
Junior Member
Join Date: Oct 2008
Location: Gilbert AZ
Posts: 6
I bought a console from hunterworks and re worked the top part so my head unit fits. I am using wake board speakers for the back of the roll cage. I mounted the amp under the hood in the plastic compartment.
Finally got everything installed. I pondered a lot of options, but decided to buy the Arctic Cat headliner and hard top. I bought a Fusion headunit, which has a built-in Ipod dock inside (really like the size of the buttons and the display on the Fusion; marine stereo and speakers definitely the way to go, more for dust than water here in Nevada). I have 5" Poly Planar triaxials up front, and 6" Poly Planar triaxials in back. Had to fab a support brace for the rear of the stereo (towards the front of the Prowler) out of 1/8" x 1" flat bar; this bolts to the back of the stereo and to the x-brace/roll cage. Also installed a Sirius tuner; right now running the antenna on the outside of the cage.
Had one issue with wiring: decided to use the auxilliary jack that is on the right side of the shifter. However, had lots of ground issues this way, probably because I could not find an OEM connector, so I tried bullet connectors. These work fine for the power side, but not a good enough ground. I re-configured the ground, using those cowboy type connectors, and it works fine.
A couple photos at Photobucket: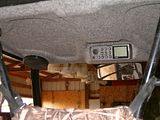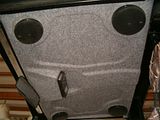 Happy trails!
Bob
---
UTV Rally - April 21-24th, 2010
2008 650 XT, camo
Trail Armor full skid plate, Bilstein shocks, UNI prefilter, 3000 lb. Warn winch, ITP Baja Cross tires, Fusion stereo with Sirius radio and Poly Planar speakers, half doors, spare tire and gas can rack, two-rifle rack
---
Last edited by ElkoTrailRider; 06-07-2009 at

11:42 AM

. Reason: Photo links didn't work