Junior Member
Join Date: Sep 2010
Posts: 1
Heater
---
I am looking to put in a heater in my 2011 700.I ordered the one from Artic cat but i have to cut my dash to install, has anyone ever saw or bought a heater that will work good? And another thing has anyone seen the new tops for the new prowler with the sunroof in it. Looks nice most of the things i have purchaced from AC have been good quality.On my 550 i have the doors top and most of what is in the book.Trading it in on the 700. Nice Site




Thanks
GB
i havnt seen the arctic cat heater but i do know its ridiculously priced,500 buks or some crap.i know that you can buy same type of heaters for boats for half that.you can also get similar heaters from jc whitney even cheaper.you just need to research them to whats aval for your space requirements.im going to do my xtz but havnt checked to far into it yet.too busy buying shocks,wheels,lowering seats and top ect.depending on what your after you will probly be cutting the dash for the defrost/heat vent installation at least.
I have the cat heater it was expensive but works good I don't quite understand the theory of the little water pump. The prowler cab leaks a lot of air take some time to seal the area just below where the hood meets the cowling
---
Last edited by scheftie; 09-26-2010 at

09:31 PM

. Reason: misspelled
I buy the 3 speed, 28000BTU heaters made for Jeeps out of Summit Racing and install them in Prowlers. They cost under $150.00 for the heater unit, then you need to buy some t-fittings for your radiator hoses and tap in. You can install a valve to shut the flow to the heater off in summer.
We've done a few like that and the owners have really liked them. The heater unit mounts down on the firewall, inside the cab, under the dash and above the floor console.
Heater:
http://www.summitracing.com/parts/SUM-991102
Here is an install on an older Prowler. On the newer ones with the floor console, we mounted them on the firewall, above the console..
Hose connections...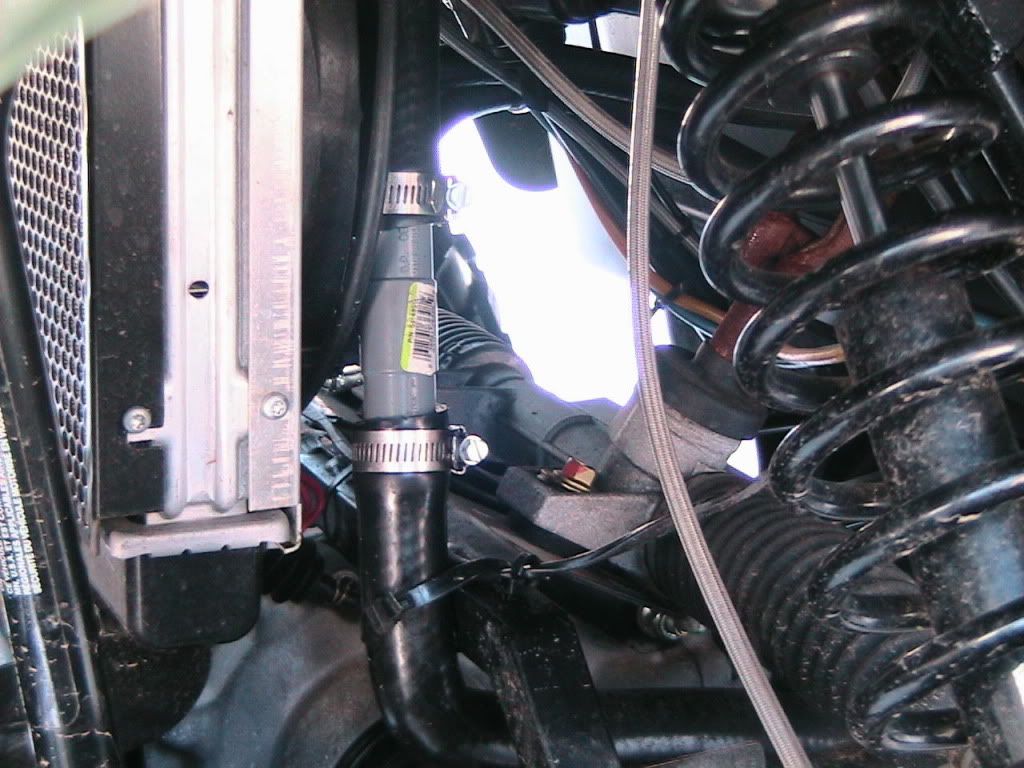 ---
Arctic Cat Prowler Desert Race XTZ: ITP BajaCross tires on ITP Beadlocks, Beard Super TZ Seats, Crowe 5pt harnesses, King Off-Road Racing Shocks, Custom Racing Chassis with 7 inch longer wheelbase, +5 Suspension set at 16 Front and 17 inches Rear inches travel, UTVINC did the tube bending
TEAM PROWLER NATION...
Oh ya that should work good,you could get creative and vent one outlet up to/thru dash for defrost if needed.
If its not too wide that looks like a pretty sweet set up
heater
---
does the heater fan run the battery down?
Quote:
does the heater fan run the battery down?
Heater+lights+ fan to help keep windows clear all takes its toll im thinking of adding utv crap alternator
heater
---
I just had the A.C. one installed in my 700, it was $684.00 cnd. Real nice fit, although you do loose some storage space in the front.
Part # 1436-359 (this might just be the dealers stock #)
---
2010 700 XTX
"Swamp Lite" 27x9.00x14 Frnt, 27x11.00x14 Rear.
A.C. Cab Heater & 4000 lb. Winch
A.C. Soft-top c/w Rear Window & Doors.
A.C. Hard-top.
A.C. Flip up W.S.
Koplin Dbl. Gun Mount.
All "Bolts Right on"