Lowest Sitting bolt in seats?
---
I am getting my Prowler XTZ1000 in a few days and I ALREADY know i want lower sitting seats. Even and inch or inch and half will be nice. I am not looking to do any fabrication I just want to bolt in comfortable seat thats sit lower and also sit as far back as possible. The stock seats leave about inch and half of room behind it. I want mine ALL the way back. I am a big guy over 6ft and 285lbs.

Thanks Guys

Help....

Suggestions, pictures. etc - yes i have searched LOL
I know on my stock seat bases the holes are slotted so you can get the seat all the way to the back so you don't have the room behind the seat when they are all the way back. As far as a aftermarket seat that would sit lower without doing anything besides bolting them in I don't know of any. Good luck and welcome to the site.
Never pay again for live sex! | Hot girls doing naughty stuff for free! | Chat for free!
Thanks SandChris. At the dealer I was playing with the seats and i didnt see any adjustment capability but i didnt spend alot of time looking.

i just saw tabs in the back that slid in and a post that the seat sets on up front...
Senior Member
Join Date: Jun 2009
Location: N.E. Ohio
Posts: 463
Welcome to the site. Sandchris is right there is no easy way to lower the seats. Good luck with your new ride.
I feel your pain, I am 6'6" 210. I have twisted stitch seats in my Cat that go all the way against the bed. It is still a pain in the ass to get in, knees under steering wheel first, than the rest of me. The best way to do it, is to the lower the seats with fab work. Good luck!
Bennett so you feel that the twisted stitch seats sit any lower than stock?
No, they do not. They actually are tilted up a little more than stock which makes it harder to get in. But, as far as comfort, support and safety, they are the only way to go.
Here's what I've found to work, makes getting in and out with quarter and half doors much easier too......
DragonFIre Quick Release Hub Adapter, and Steering Wheel | Kawasaki Teryx 750 Safety
In this photo you can see how much room you have without the steering wheel to get in the way.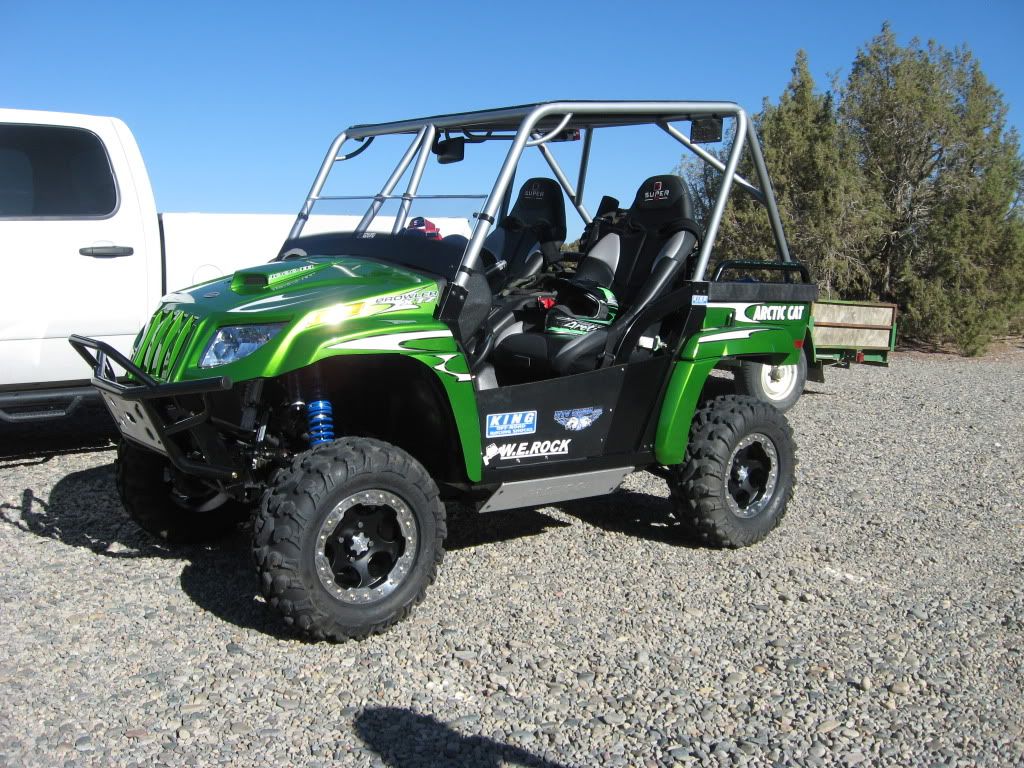 ---
Arctic Cat Prowler Desert Race XTZ: ITP BajaCross tires on ITP Beadlocks, Beard Super TZ Seats, Crowe 5pt harnesses, King Off-Road Racing Shocks, Custom Racing Chassis with 7 inch longer wheelbase, +5 Suspension set at 16 Front and 17 inches Rear inches travel, UTVINC did the tube bending
TEAM PROWLER NATION...