2009 Prowler XTZ 1000 Baja
---
I am selling my XTZ 1000. I am buying a John Deere tractor and selling the XTZ will help pay for it.
It is a 2009 Model with only 93 hours and 222 miles.
It has 11 wheels and tires (5 new OEM and 6 custom bead locks), LED and halogen overhead driving lights. Among the upgrades are: a harness bar, 5 way harnesses (sun faded), rear frame stiffeners, polished aluminum rear frame cross brace, custom front bumper (OEM bumper also included), and parking brake alarm. Also: RAM ball mounts are installed on dash and adjustable RAM ball mounts are on the front roll bar. It has new camo seats (2 months old). The battery was replaced last fall.
Downsides: It had custom plastic doors, but I broke one and I removed the other to use it as a pattern for new panels. It has a bent receiver hitch. The bed mounted spare tire rack has been removed as have the side mounted rock sliders (they are in my barn). Otherwise, it is in excellent condition.
I will take a full series of photos late next week after our stormy weather has passed.
I cannot ship it, so it will need to be picked up in Woodward County, OK. I cannot finance it, either.
I have no idea what to ask for it, so I am open to offers. My email is:
[email protected]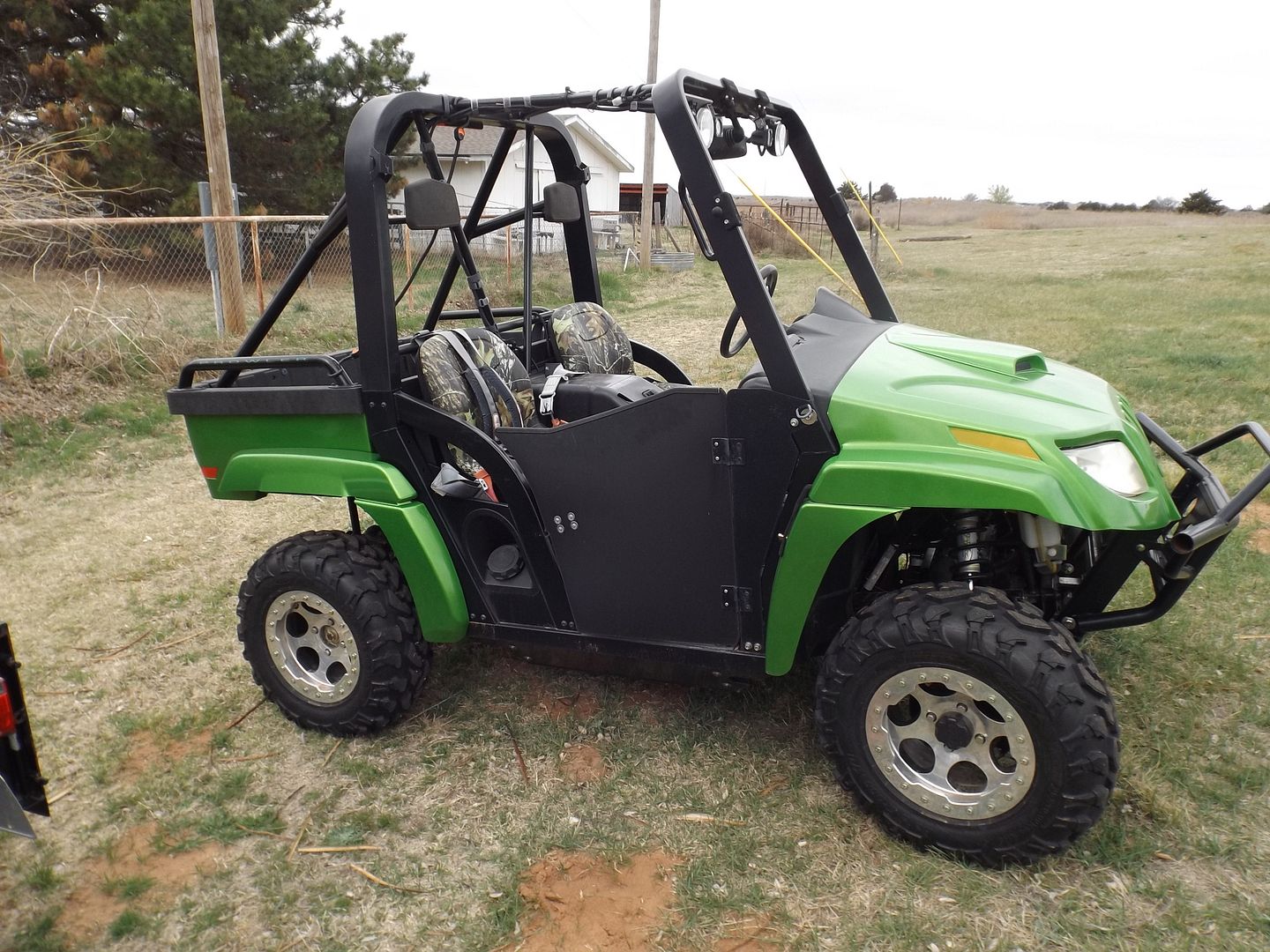 ---
Terry
2009 Prowler XTZ 1000 Baja - ITP beadlock wheels, ITP Baja Cross X/D tires, 2" wheel spacers, harness bar, 5 point harnesses, custom doors, 4 Vision X LED lights, 2 PIAA lights, RAM mounts on roll bar and dash, military truck mirrors, polished aluminum rear frame brace, inside tube rear frame stiffeners, Mossy Oak camo pattern seats, custom front brush guard, parking brake 'on' alarm, Throttlemaxx controller, Uni pre-filter, and Mobil 1 4T M/C 10W-40 racing oil with K&N filter.
---
Last edited by Retired1; 04-17-2016 at

02:53 AM

.
Someone will get a great Prowler! You can check bluebook for a price and go from there. Not sure how many Baja Models they made, but that would also add value! Extra wheels, and tires are all pluses! From what I've seen on the web you should see between 7-9 thousand. Downside is Prowlers are somewhat of an orphan!
---
2009 700EFI XTX, , AC Winch, 2010 Dust Shield EPI Sport Utility Clutch Kit , Street Legal, Cage chopped 2 ", Aluminum Diamond Plate Trim, Relocated Factory Bladders with covers, 5 Pt. Harness installed, Bed Tiedown System, Scat Pro-Car Seats, Secondary Battery installed, Oil Pressure, Oil/CVT Temperature, Volt Meter & Water Temp Gauges installed with Dash Plate, Bighorns, ITP Black 212 Wheels. Tonneau cover. 750 Big Bore Kit, Web Cam, and Rocker Arms.

Either - Dick or RD
Junior Member
Join Date: Apr 2016
Location: SoCal
Posts: 35
Nice looking Prowler, good luck with the sale!
---
Kirk

SoCal

2010 Prowler 1000 XTZ

2014 Odes Dominator 800

2001 Lexus LX 470
Triple locked
good luck , I'll be watching as I may end up selling mine if I can't get my eye's issue resolved [time will tell]
---
name is Gary or hey you if ya forget

2009 Prowler XTZ , couple things added here and there
'83 CJ7 / SBC + whole lot added here and there
'01 Dodge / Cummins / Dually, a ton of stuff added here and there

INSTRUCTIONS FOR THE NEWBIES ...
1. Bring in a good load of firewood for the pit
2. start the morning coffee , strong but not burnt / boiled down , IMPORTANT start it early as many of us old farts get up early !!
3. sit a spell and swap some lies with the best of us
Looked on Kelly Bluebook, 2009 1000 Prowler 7525.00 in excellent condition, loan value only at 5,250.00
---
2009 700EFI XTX, , AC Winch, 2010 Dust Shield EPI Sport Utility Clutch Kit , Street Legal, Cage chopped 2 ", Aluminum Diamond Plate Trim, Relocated Factory Bladders with covers, 5 Pt. Harness installed, Bed Tiedown System, Scat Pro-Car Seats, Secondary Battery installed, Oil Pressure, Oil/CVT Temperature, Volt Meter & Water Temp Gauges installed with Dash Plate, Bighorns, ITP Black 212 Wheels. Tonneau cover. 750 Big Bore Kit, Web Cam, and Rocker Arms.

Either - Dick or RD