Junior Member
Join Date: Feb 2012
Posts: 20
More Stability
---
"09" Prowler 1000 - I was wondering whats the best way to take a stock machine and give it a little meaner look and make it more stable at the same time. Would just wider wheels and tires make a big difference ? If so what size is best without going overboard and having to make lots of changes? I could give a little of the top end for more safety! Thanks, frank
A long-travel kit would be the best bet, but is very expensive. The cheapest route which is what i did, is to add 1"-2" wheel spacers. I have 2" spacers all the way around. This makes my machines track 4" wider overall. its more stable and looks awesome. Be prepared for mud and dirt to fling right past fenders now though lol.
Or you could go with different offset rims. You dont need them to be wider. A different offset like 2+5 or 3+4 will make your tires stick out like 1"-3" from where they are now. Stock offsets are typically 5+2 on IRS vehicles with 7" wide wheels.
Heres a good diagram to explain this...
ATV Rims - Offset Guide for ATV Wheels
A 5+2 offset is the most standard offset when it comes to ATV wheels. The face of the rims is closer to the exposed edge and the majority of the rim & tire sit in underneath your ATV. The 5+2 offset is used on the front of almost any utility ATV/UTV. A 5+2 offset is also used on the rear of any Independent rear suspension model ATV. If your ATV has the independent rear suspension it will use the exact same offset on front and rear when you buy aftermarket rims. If your ATV has the straight rear axle you'll need to order a different offset for the rear which is shown below.
2+5 Offset
5+2 offset
Junior Member
Join Date: Feb 2012
Posts: 20
Thats awesome help. What kind and size tires do you run on that set-up? I think the spacer thing is what i'm looking for. Hopefully I can use the stock wheels and get some better/bigger tires. frank
Im using stock XTZ wheels and tires. I plan on upgrading soon though too 15" wheels on 28" Moto MTC tires.
Here's a couple of mine, you can kinda see the tires sticking out...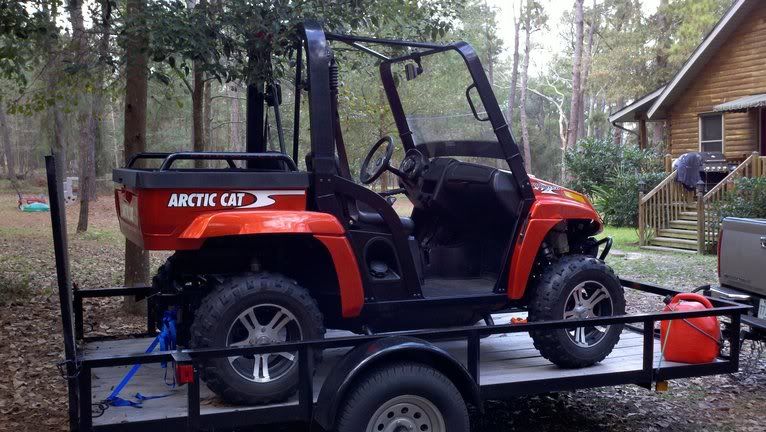 Chop the cage and drop the seats!
I have a set of 4 2" spacers up for sale around here somewhere..
---
Tim
2010 A/C XTZ with some "Stuff"
SOLD
But still here everyday to contribute to the cause

Hey I agree with that I have 2'' wheel spacers fox shocks, lowered seats and custom cage, removed rear torsion bar and never have any probs with side roll over and I do donuts all the time on the pavement in front of my house as well as circle track we race on. Its very stable and it makes you feel much safer. My only prob is flipin over off dunes. You are in the right direction. Ive done what these guys have recomended on here and it works.
Junior Member
Join Date: Feb 2012
Posts: 20
Ok, i'm sold on the 2" spacers. I need to know a little more about choping the cage and lowering the seats. Are you talking about re-doing cage from scratch or just cutting off what you have and putting it back on ? Thanks for all the help! I'm also interested in those 2" spacers that are for sell.