Haul Vehicle: Fearless | Yokohama Geolandar A/T GO15
---

I have been running the
Yokohama Geolandar A/T-S
for a few years on my Toyota FJ Cruiser and have been very pleased with the overall performance both on and off-road road, so when the updated version came out I decided it would be a great time to upgrade my tires and test them out.
According to Yokohama their all-new Geolandar A/T GO15 tire has been engineered to give you ultimate traction across all conditions, whether you're rolling down the highway or leaving the pavement behind.
After having my Geolandar A/T GO15 tires installed at one of our
Discount Tire locations
, I came home and loaded up my trailer with my side by side and headed north to the mountains of Payson, AZ. I have to say even though my older Geolandar A/T-S tires were quiet, the new Geolandar A/T GO15 are even quieter. They also seem to ride smoother on the uneven surface streets to and from the office. My older set would track on the uneven surfaces where these roll through the same area without tracking.
Pulling my loaded trailer was smooth and effortless thanks to the Endurocore Construction on my Load Range E tires. The 10-ply rated construction adds extra durability for vehicles carrying heavy loads.
After unloading my trailer it was time to take the FJ out for some wheeling fun. I have ridden in the area for many years and know a few excellent spots to test the traction and chip resistance of the tires.
We started off on some mild rocky trails through the woods to get the feel of the tires.
After a few miles we were ready to test the tires on a steep, loose, off-camber, and rocky hill climb with a few ledges thrown in to make it interesting.
The first challenge was the off-camber section where the rear tire followed a rut up the trail to a spot where the rear drivers side sidewall would have to climb up a boulder with most of the vehicles weight transferred to it. The Geolandar A/T GO15 never missed a beat as the over the shoulder deep serrated sidewall climbed the rock face with ease.
The terrain on this trail is very loose and rocky but the tires had absolutely no trouble with traction even with it being quite steep.
After our trail ride and hill climb we took a break to enjoy the breathtaking views of the Mogollon rim off in the distance.
This was a good time for us to inspect the tires for any chips or sidewall damage. You could tell from the scuff marks on the tires we used the sidewalls but there were no cuts and no chips in the tread thanks to their Enduro Compound which enhances chip cut resistance.
The tires did an incredible job both on and off-road just as Yokohama said they would.
We did not have the chance to test this tire in mud or snow but Yokohama has also improved this tires capability in both of those areas by adding Triple 3D Sipes that change shape as the tire wear. Circumferential groves which evacuate water beneath the tread to help prevent hydroplaning and by adding Edgetec groves which create more biting edges.n.
Don M
Discount Tire
---
Last edited by Discount Tire; 06-09-2016 at

03:18 PM

.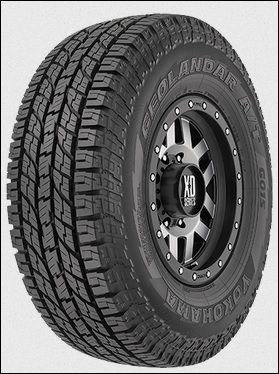 Yokohama Geolandar A/T GO15
UTQG: 600 A, B (P-Metric Only)
Warranty: 60,000 Mile on PLT sizes | 50,000 Mile on LT sizes
Click here for:
Yokohama Geolandar A/T GO15 Availability and Pricing
-KEY FEATURES-
ENDURO COMPOUND: Yokohama's unique tread compound with Orange Oil and special polymers resists wear for longer mileage. Also promotes off-road durability and cut/chip resistance.

TRIPLE 3D SIPES: Change shape as the tread wears to maintain biting edges for confident all-season traction. Also helps retain block stiffness for longer, more even wear.

CIRCUMFERENTIAL GROOVES: Expel water from beneath the tread to help prevent hydroplaning.

EDGETEC GROOVES: Create more biting edges for traction in snow while also creating more void area to help expel dirt and mud.

SIDEWALL PROTECTORS: Fight off sidewall cuts and abrasions.

ENDUROCORE CONSTRUCTION: For Load Range E-Sizes. the casing has been optimized to deliver added durability for vehicles that carry heavy loads

FULL NYLON COVER: Provides extra puncture resistance in the tread area.

THREE PEAK MOUNTING/SNOWFLAKE SYMBOL: All Yokohama Geolandar A/T GO51 tires meet the RMA performance in snow testing.
(click chart to enlarge)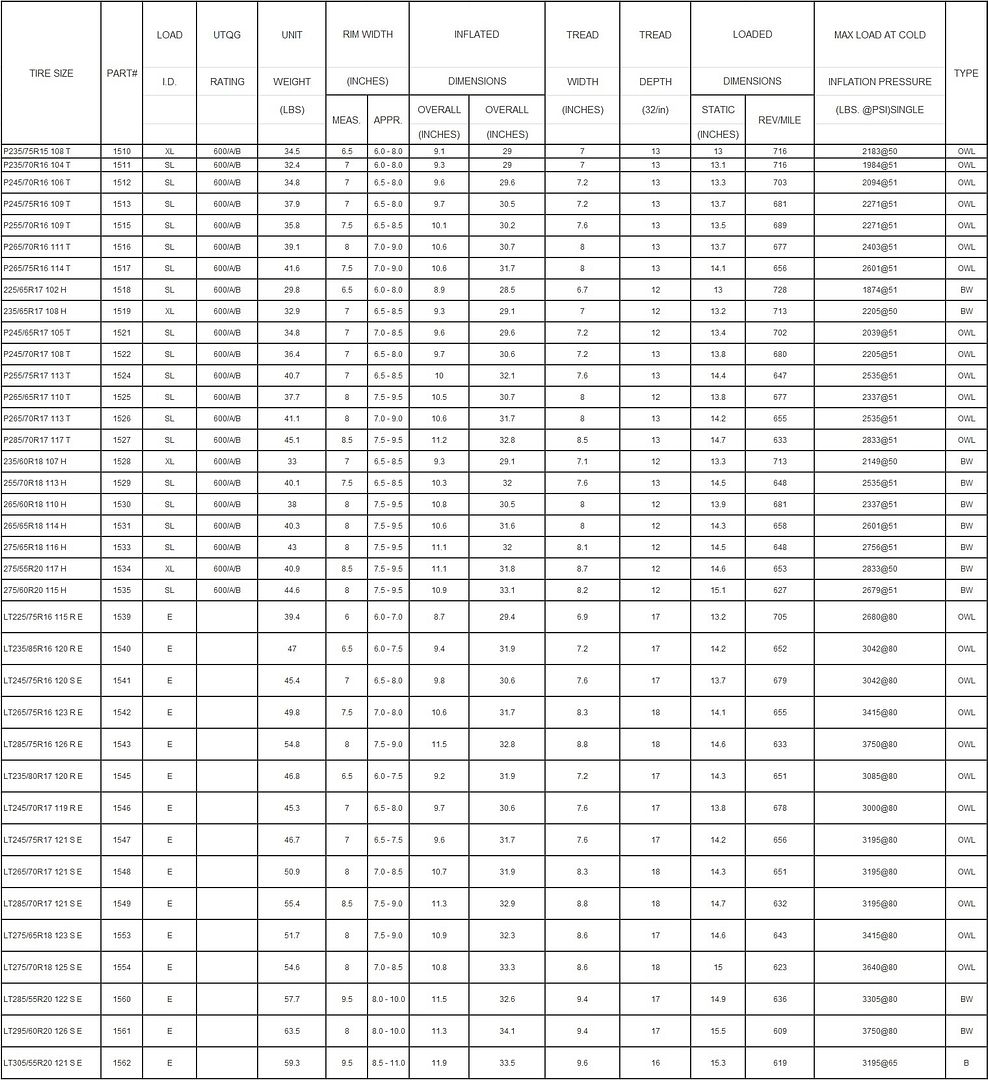 -MEDIA-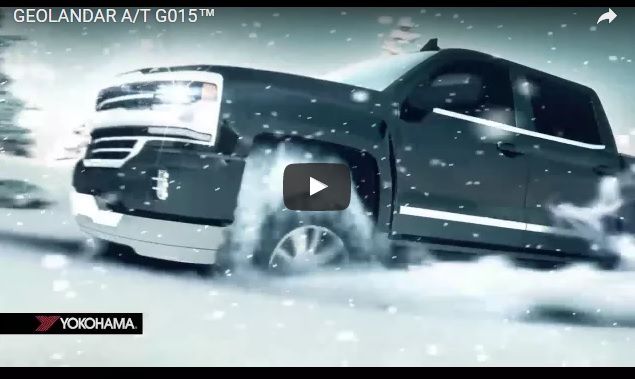 Source:
YokohamaTire.com
Great photos and an excellent report on the newest version of the Yokohama Geolander A/T.
---
Terry
2009 Prowler XTZ 1000 Baja - ITP beadlock wheels, ITP Baja Cross X/D tires, 2" wheel spacers, harness bar, 5 point harnesses, custom doors, 4 Vision X LED lights, 2 PIAA lights, RAM mounts on roll bar and dash, military truck mirrors, polished aluminum rear frame brace, inside tube rear frame stiffeners, Mossy Oak camo pattern seats, custom front brush guard, parking brake 'on' alarm, Throttlemaxx controller, Uni pre-filter, and Mobil 1 4T M/C 10W-40 racing oil with K&N filter.
Quote:
Great photos and an excellent report on the newest version of the Yokohama Geolander A/T.
Thank you, retired! We're glad you enjoyed it.