One of the toughest, just got tougher | STI Rocktane XD-K
---

Check out the latest addition to the STI Rocktane family, the
Roctane XD-K!
The all-new Roctane XD-K features Dual KevlarŪ belts for added durability. A lightweight synthetic fiber with five times the tensile strength of steel, KevlarŪ has a bulletproof reputation that matches its application. With dual KevlarŪ belts engineered in a cross-weave pattern running shoulder to shoulder on the new Roctane XD-K tires, STI Tire & Wheel triples the puncture resistance of this nearly impenetrable tire.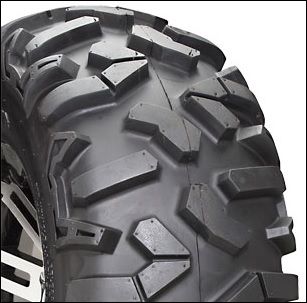 STI Rocktane XD-K
Click here for:
STI Roctane XD-K Availability and Pricing
-KEY FEATURES-
Dual Kevlar belts for extreme durability

RocWall sidewall construction adds shoulder protection

RocGuard rim guard protects wheels from trail damage

8-ply rated radial carcass
-SIZE LINEUP & SPECS-

Source:
stitireandwheel.com
looks to be a heavy tire..but probably bulletproof....I run 30'' tires.....30's in the Roctane would be 200 lbs..
---
2015 A/C Sport,With a few add ons..........
Yipes! I'd never turn them!
---
2009 700EFI XTX, , AC Winch, 2010 Dust Shield EPI Sport Utility Clutch Kit , Street Legal, Cage chopped 2 ", Aluminum Diamond Plate Trim, Relocated Factory Bladders with covers, 5 Pt. Harness installed, Bed Tiedown System, Scat Pro-Car Seats, Secondary Battery installed, Oil Pressure, Oil/CVT Temperature, Volt Meter & Water Temp Gauges installed with Dash Plate, Bighorns, ITP Black 212 Wheels. Tonneau cover. 750 Big Bore Kit, Web Cam, and Rocker Arms.

Either - Dick or RD
Quote:
Yipes! I'd never turn them!
Just something to think about when buying tires,30'' roctane in a 14'' is almost 50 lbs per tire
---
2015 A/C Sport,With a few add ons..........
They are heavy but they should be very tough.