Truck/SUV: Yokohama Geolandar M/T G003 | GO STRONG!
---
STRONGER 
OFF-ROAD PERFORMANCE | Proprietary GEO-SHIELD™ Technology

We recently were invited by
Yokohama Tire
to attend the launch of an exciting new tire in their off-road segment. We traveled to the tiny town of Gateway, CO for some experience with this tire under harsh conditions. Being a short distance away from Moab, UT and at 4,600 feet, Gateway features some unique topography and terrain.
A little history on the aggressive side of the Geolander line:
Super Digger was launched ~1998 and was an immediate hit with off-road racers. This tire is still produced today in one size for the race crowd.
Geolander M/T+ ~2007. Directional mud terrain tire
Introducing the new
Geolander M/T G003!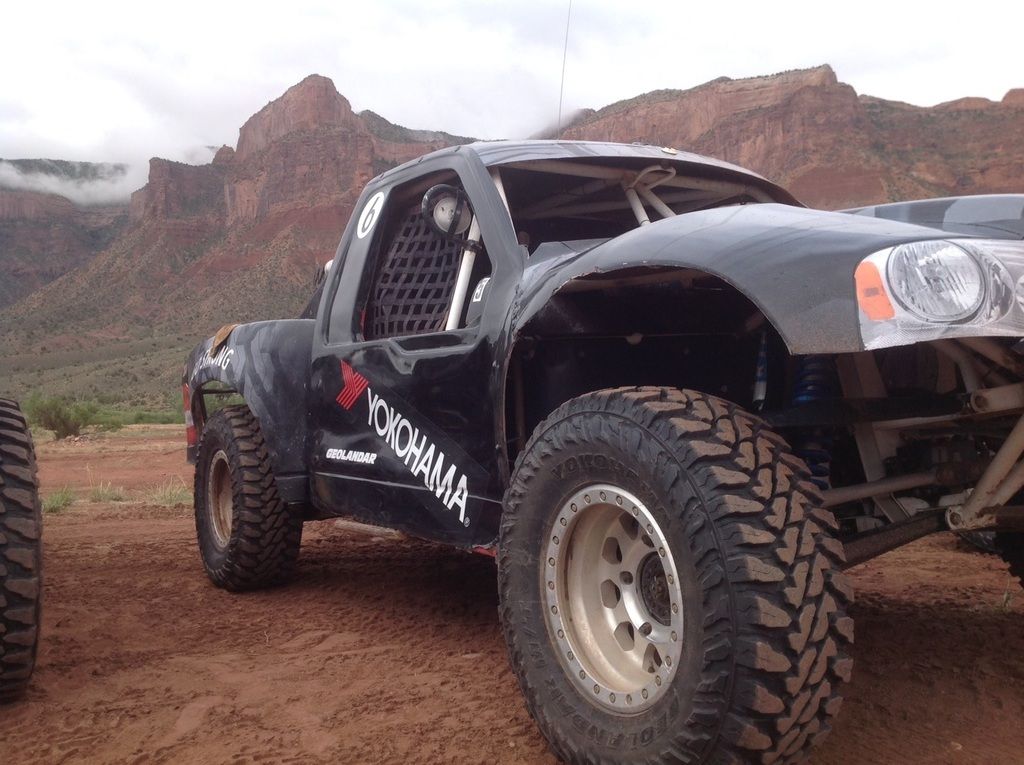 As confirmed by independent testing, this tire features:
New wide and flat contact patch, resulting in 8%. longer tread life.
New rubber compound for improved cut and chip resistance.
3-ply sidewall with high turn-up.
2.3db quieter than the leading competitor's product.
51' shorter stopping distance in wet conditions.
During the trip, we drove the tires in two different scenarios: A controlled closed course race environment and natural open fire roads and trails.
For the closed course event, we strapped into VORE Challenge series trucks and were turned loose on a race course in the middle of a valley. Terrain consisted of hard pack, gravel over hard pack, and soft silt. In addition, there were several sharp hills which provided limited air time. The tires hooked up very well, especially in the deep silt which existed in several of the turns. No issues with any of the tires during our session, but we did note some rubbing damage on one of the race vehicles due to contact with the fender.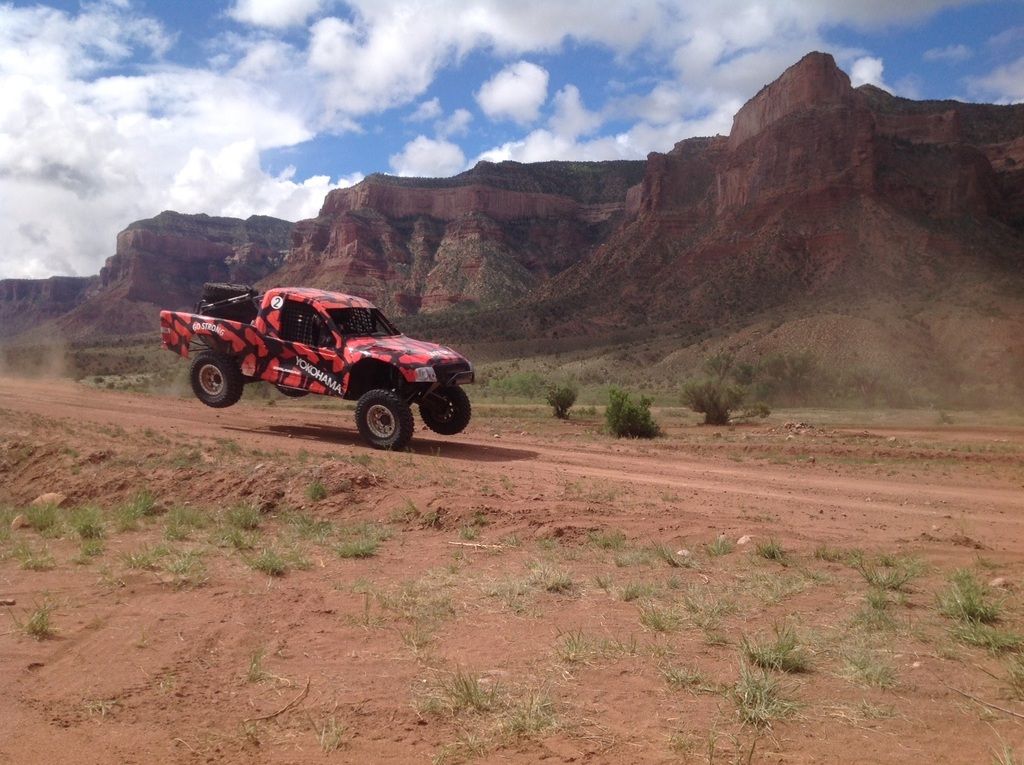 For the next event, we loaded into Jeeps and headed out into open country via fire roads and established trails. These Jeeps had mild 2" lifts and were shod with
35x12.50-17 tires
.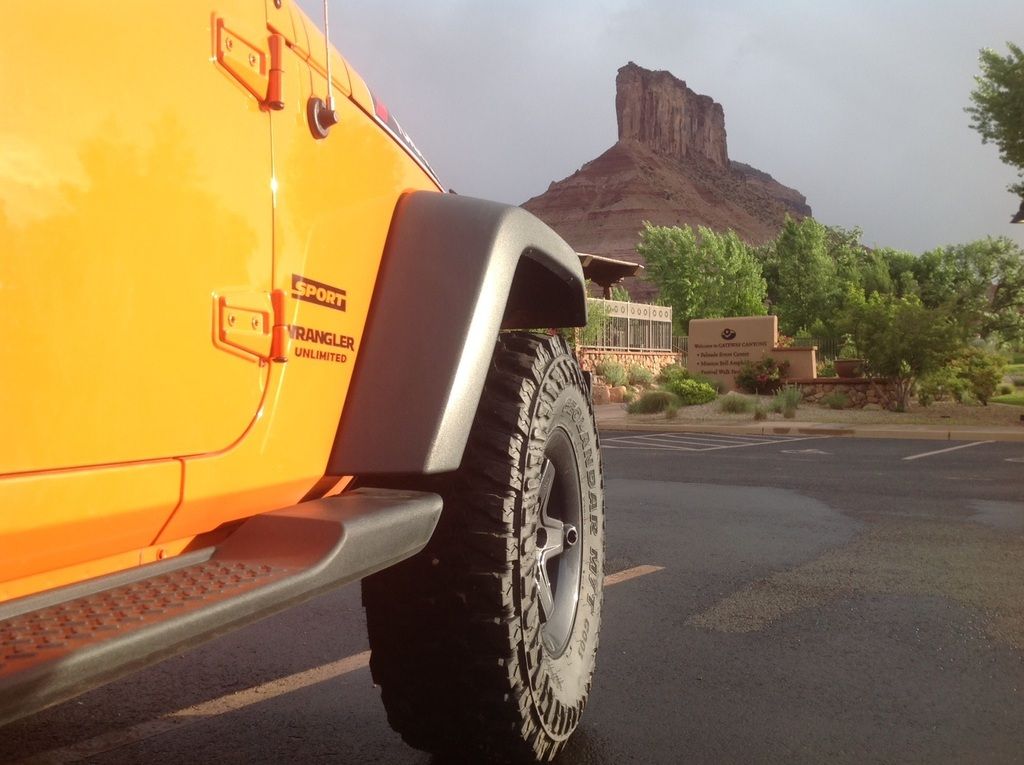 We experienced a variety of trail conditions:
hard pack
gravel over hard pack
soft silt
jagged rock gardens
light mud
snow
both wet/dry asphalt.
All-in-all, the tire performed extremely well in all conditions. No punctures, tread chunking, irregular wear, or other issues were observed on any of the vehicles during the testing (note: we were the last group to attend after a week of testing and were told the same sets of tires were used all week). In some of the rock gardens, we purposely tried to puncture a sidewall by hitting sharp, jagged rocks at a bad angle. No such luck, even though the tires were inflated to 30 PSI.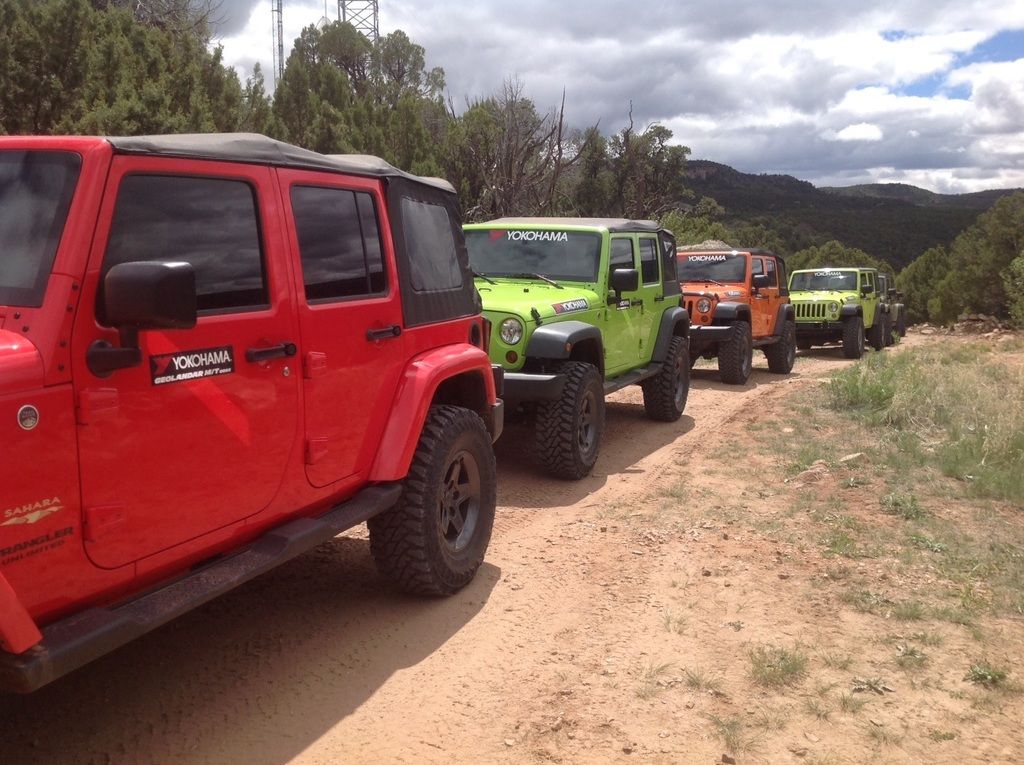 Yokohama is being very aggressive with it's re-entry into this segment. Sponsorship of NORRA, NitroCircus, several off-road competition teams, and Horsepower Adventures in Baja are complete.
20 initial launch sizes will begin shipping on July 1st. Stay tuned for more Yokohama product launches in this segment in the coming months!
Check out the slideshow below for additional photos from the Yokohama Geolandar M/T G003 launch event.

Yokohama Geolandar M/T G003
UTQG: N/A
Click here for online:
Yokohama Geolandar M/T G003 Availability and Pricing
Also available in-store by special order
HERE
-KEY FEATURES-
Triple-Polymer Tread Compound - Provides exceptional wear performance, extending tread life


Optimized Block-to-Void and Sipes - Provide outstanding grip and significantly shorter stopping distance on wet roads


Stone and Mud Ejector Blocks - Provide maximum traction


Aggressive Sidewall Armor - Creates a bold, new loo while deliverig off-road traction and protection from damage


GEO-SHIELD™ Technology - Multiple sidewall plies, steel belts, a full nylon cap and high turn-up carcass provide strength and protection in harsh off-road conditions.


Advanced Variable Pitch Tread Design - Assures a quiet, on-highway ride
-MEDIA-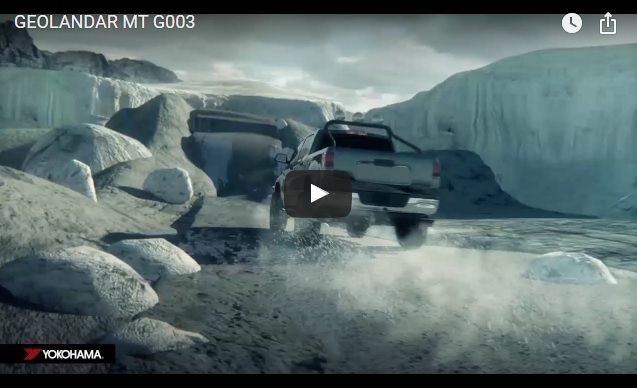 ---
Last edited by Discount Tire; 08-18-2017 at

01:23 PM

.
See below for additional write-ups from the Yokohama Geolandar M/T G003 launch event:


Here is the first wave of sizes projected to launch July 1st!


LT315/75R16 127Q

35X12.50R17 121Q
37X12.50R17 124Q
LT235/80R17 120Q
LT255/75R17 111Q
LT265/70R17 121Q
LT285/70R17 121Q
LT295/70R17 121Q

33X12.50R18 118Q
35X12.50R18 123Q
LT285/65R18 125Q
LT295/70R18 129Q
LT305/70R18 126Q

33X12.50R20 114Q
35X12.50R20 121Q
37X12.50R20 126Q
37X13.50R20 127Q
LT275/65R20 126Q
LT295/60R20 126Q
LT305/55R20 121Q
Additional details, including availability, added to post #2.
I recently installed a set of new Yokohama Geolandar M/T G003 Mud Terrain tires on my FJ Cruiser. I was previously running the Geolandar A/T G015 tires for the last couple of years with outstanding results. While the M/T is a different animal compared to the A/T I've been pleased with the performance they deliver.
When the tires arrived I was off to my friendly Discount Tire store to have them mounted and road force balanced. My first impression looking at this tire was, "holly Cow, these tires are meaty"… They have an aggressive tread pattern and a very bold sidewall!
I was anxious to get these tires on the road to compare them to the Yokohama Geolandar A/T G015. This is not really a fair comparison since the G015 is an all-terrain tire and the G003 is a Mud-Terrain, but it' s still a good chance to see how it measures up with on-road manners.
Leaving the Discount Tire store I hopped on the freeway to see how the noise compared. They are noticeable nosier than the G015 but not loud by any means. According to Yokohama, they are 2.3 decibels quieter than a leading competitor thanks to the variable pitch tread pattern and groove to lug ratio to help reduce road noise. The M/T has a solid feel on the road with no wandering what so ever. They're not quite as smooth as the G015, but I didn't expect that from an MT tire. Don't get me wrong, they ride smooth but have a heavier feel through the steering wheel.
The new Geolandar M/T G003 tires look great and my initial feedback by the seat of my pants is very positive. I can't wait to get this tire out in the dirt and see how they do in the rocky deserts in Arizona.
At this point, I have made several weekend trips putting the Yokohama Geolandar M/T G003 through their paces on some of the local desert trails north of Phoeni,x AZ.
There was one area that had some soft granite sand in a wash that was calling my name. I just had to see if the tires would be able to hold a line in the sand when pushed hard on a turn. To my amazement they cleaned out easily, throwing the sand in grand style as I raced through the wash.
I also had the opportunity to test the toughness of the Geolandar M/T G003 tire on a steep, loose rutted hill climb. To make the test even more impressive I had the PSI set for street use instead of airing down.
The Yokohama Geolandar M/T G003 had no trouble even at full pressure clawing it's way through the rutted terrain on this steep trail thanks to the aggressive flatter tread with high voids for improved traction and thick shoulder lugs.
On another trip, I was able to find some muddy water to go through in the desert since it rained the night before. Although this was not a true mud test I did have a chance to take the tires through some light mud. It did also give me a chance to test the bold 3 ply sidewall as I ricocheted off a few large boulders out of sight under the muddy water.
After many trips testing the toughness of the Yokohama Geolandar M/T G003 tires on my FJ in rocky desert terrain that likes to eat sidewalls, I am confident these tires will be a hit with the hardcore off-road community. With their Geo-Shield construction that features a 3 ply sidewall on the D & E rated sizes along with steel belts and a full nylon high turn up carcass. This tire is staged to be a winner for Yokohama.
I look forward to many more trips around Arizona for future testing of this outstanding tire.
-Don
On a side note... you can save up to $135.00 back by mail right now with the purchase of four(4) Geolandar M/T G003 tires at Discount Tire Direct using Discount Tire credit during their Thanksgiving Deals on Tires and Wheels promo (11/217 - 11/27/17) - see below for details.
Thanksgiving Deals | Discount Tire Direct
Yokohama Geolandar M/T G003 Sizing and Availability | Discount Tire Direct
-TTT-
In case you missed it... purchase five(5) Yokohama G003 M/T tires and save $125.00 back by mail! Purchase a set of 4 and save $100.00 back by mail!
Ends June 30th, 2018
At The Store:
To Your Door:
-TTT-

In case you missed it!

Now thru October 31st, 2018 receive a $100 Visa Prepaid Card by mail when you purchase a set of 4 Yokohama Geolandar M/T G003 tires!

AT THE STORE



TO YOUR DOOR


thanks for continuing updates on this tire ... your results speak loudly for them
---
name is Gary or hey you if ya forget

2009 Prowler XTZ , couple things added here and there
'83 CJ7 / SBC + whole lot added here and there
'01 Dodge / Cummins / Dually, a ton of stuff added here and there

INSTRUCTIONS FOR THE NEWBIES ...
1. Bring in a good load of firewood for the pit
2. start the morning coffee , strong but not burnt / boiled down , IMPORTANT start it early as many of us old farts get up early !!
3. sit a spell and swap some lies with the best of us
Thanks, GT! I'm still very pleased with the performance this tire delivers.