Who Else is Excited About This Year's Discount Tire Rally On The Rocks!!!
---
Our Discount Tire Crew is always passionate about having fun - please help us celebrate this year's 8th annual Discount Tire Rally on the Rocks event in beautiful Moab, UT!
Now's the perfect time to take care of the last minute preparations for this year's
Discount Tire Rally on the Rocks
which is set to run May 15th through May 19th, 2018. This has always been one of the premier side by side events in the country and this year will be no different. We hope to see you all there ready to have some good, family fun!
Last years event was the biggest ever; with all the buzz online we are expecting to surpass last year! Personally, I can't wait to see the amazing vendors and meet up with some of the many friends I have made during the many trips I have made to the Rally over the years.
Check out the short highlight video we did at last years Discount Tire Rally on the Rocks - can you tell we are PUMPED!!!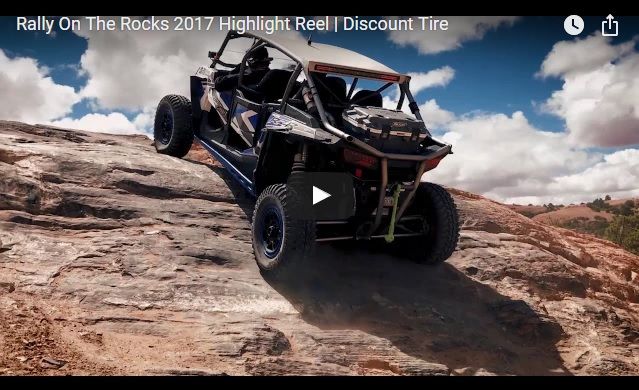 If you are in need of new tires, wheels or both for your side by side, you need to order now! When you order tires and wheels together, Discount Tire Direct will mount and ship them to your door at no additional cost! If you have any questions or would like a quote please send us a PM. Here are a couple of links to Discount Tire Direct where you can shop the selection.
This year we will be bringing a truckload of UTV tires and wheels as well as trailer tires for those unexpected emergencies. You can pay for them with either a credit card, debit card or cash - whichever is easier for you! Discounted installation will be offered via third party.
Make sure you don't miss the Discount Tire sponsored breakfast in the arena Wednesday, May 16th from 7:45 to 9:15 - it was a fan favorite last year! Our crew worked hard making breakfast sandwiches for everyone before the ride started. Thanks to Camp Chief for their amazing grills!
Jen even stepped it up a notch by delivering sandwiches to those in line for their ride that missed them inside.
Also, Wednesday night is the Discount Tire ice cream social with another HUGE raffle!
Please stop by the Discount Tire booth during the event to say hi and pick up some goodies.
We can't wait to make some new friends this year as we all have a blast. Remember to drive save, help others whenever they are in need, and buy all your tires and wheels from Discount Tire. We'll see you on the trail!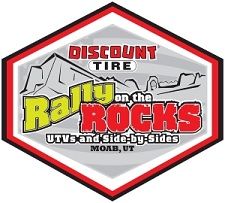 Thanks DT! Love the pictures!
---
2009 700EFI XTX, , AC Winch, 2010 Dust Shield EPI Sport Utility Clutch Kit , Street Legal, Cage chopped 2 ", Aluminum Diamond Plate Trim, Relocated Factory Bladders with covers, 5 Pt. Harness installed, Bed Tiedown System, Scat Pro-Car Seats, Secondary Battery installed, Oil Pressure, Oil/CVT Temperature, Volt Meter & Water Temp Gauges installed with Dash Plate, Bighorns, ITP Black 212 Wheels. Tonneau cover. 750 Big Bore Kit, Web Cam, and Rocker Arms.

Either - Dick or RD
After a short 9 hour jaunt, our boys arrived safely in Moab and are setting up the booth over at the Spanish Trail Arena. Look at all those spectacular tires and wheels!!!
And if you're wondering, they are for sale and available for pickup at the event!