2019 Discount Tire Rally on the Rocks | DAILY COVERAGE THREAD
---
It's finally that time!!!
The
2019 Discount Tire Rally on the Rocks
is almost underway! We're loading up and marking items off of the checklist!
Subscribe to this thread for awesome pictures and daily coverage from the 2019 Rally that will run May13th through May 18th, 2019. If you're attending this event, feel free to share your photos here as well - we'd all love to see them!!!
The Discount Tire Rally on the Rocks officially KICKS OFF TODAY!!!
After a start time yesterday of 3:30 AM and a 9.5 hour drive, our booth is now stocked with over 400 tires and wheels and all sets qualify for 15%% off INSTANTLY. For those at home you too can take advantage of this savings online at Discount Tire Direct -
SHOP HERE
.
As we were setting up the booth we had the opportunity to go meet with some of the longtime friends we've met from past Discount Tire Rally on the Rocks plus some new faces.
It was nice to see Lance and his lovely wife (the owner of the Rally) and his awesome family as they were taking care of the people coming in and signing up early for the trails. The whole family pitches in to make this rally happen.
As always it is also fun to see all the people coming in early with their family and extended furry friends. This looks like it is going to be another awesome family friendly event - looking forward to hitting the trails!
More coverage to come!!!
Discount Tire SWAG BAGS for future festivities
Honda is here with their new Talon!
Here are some rides that were leaving the Spanish Trails arena earlier today to hit the awesome trails Moab has to offer - we can't wait for them to come back and tell us about their day!!!
The annual industry party is tonight and we have meat!
We are looking forward to gathering together with other vendors for a relaxing dinner of pulled pork that we cooked thanks to the amazing pellet grills provided by Camp Chef! It's always a good time sharing a great dinner and playing some games of corn hole with our industry partners.
Here are some random photos taken today during set-up for Vendor Day.
Last nights annual industry dinner was a huge hit with well over 100 vendors and media people attending!
Everybody had an awesome meal and a huge thanks to our guy Addam for getting up at 2 and 4 AM to tend to the 65 pounds of pulled pork - cooking them to perfection on the amazing Camp Chef pellet grills. Also shout out to Method Race wheels for providing refreshments and Moab Ice for letting us bring a trailer full of ice to the condos!
After getting their fill of pork and all the fixins, it was time to see who could toss the cornhole bags the best! What a blast talking to all the people that came to support our outstanding sport. Our friend Cowboy and his daughter are always a treat to talk to with all the stories they have from being local guides in Moab and on the Colorado river for some 30 plus years.
Off-road coverage and wheeling pics are coming soon as the guided trails kick into full swing!!! Today we will be riding on Fins-N-Things testing out some new 30x10.00R-15 Patagonia SXT Milestar tires mounted on New Raceline Trophy wheels!
Yesterday's ride was on a trail called Fins-N-Things. This is one of the more popular trails because of the outstanding views of the snow topped LaSalle Mountains which are located to the east. This beautiful coral colored trail has many dinosaur type of "fins" to ride up and down. Some of the climbs and descents definitely command your full attention!
We rode in Eric's custom Polaris General 4 1000 testing out the new Patagonia SXT tires from Milestar in 30x10R-14 shod on all new Raceline Trophy wheels. What a great looking tire/wheel package!!!
Getting to the trail head our group is escorted by the local Moab Police department through town to Hell's Revenge where they let us continue on our own. The Patagonia SXT tires ride well on the road. As we hit the trail the first part is sandy mixed with rocky terrain. The tires tracked great as we hit some of the high banked berms and were very tough as Eric pounded them in the rocks. Shortly up the trail the slick rock climbs started where the tires had very solid traction. Eric put them through their paces as he was pushing them on steep climbs and descents. The traction seemed just right as the tires would bark on some of the steep climb. To me I like it when I can hear a tire talk with the occasionally slip to let you know where their traction limits are. It's good on slick rock to have traction but if your tires don't slip a bit you can have too much traction and break axles or other parts. There wasn't one time during the trail where the tires let us down even though Eric did his best to hit every rock along the trail.
We had one rider along this trail that broke 2 axles on one of the climbs and another rider that broke the rear sway bar bracket in half. Even though this is not a particularity tough trail there are many good places to test the limits of your machine and tires and wheels if you are so inclined.
Look for a full review of the Patagonia SXT in the near future!
Wednesday night it was time for the Discount Tire Ice Cream Social and Raffle!!! This is always a fan favorite as we throw out tons of FREE swag into the crowd in between raffled items and hand out delicious ice cream treats.
It was a blast watching all the little kids that kept coming up to the cooler and grabbing another one of their favorite ice creams. I loved seeing their faces as they had one after another.
The list of giveaway items was pretty impressive - here is most of the items:
BFG T/A KM3 33x10.00R- 15 tires
Method Tensor Regulator 33x10.00R-15
Milestar Patagonia SXT 32x10.00R-15
Goodyear Light Truck or Passenger tires
Assult Mirrors and Cooler
Dynojet Programmers
Rigid Light bar
Misc Discount Tire Swag, Cooler and Backpacks stuffed full of Nascar goodies
In the end almost everyone ended up with some items plus they had a fun filled night as the Discount Tire team entertained them. One unique thing happened at the end of the night. The guy that won the set of BFG tires has to tie them to the top of his Yamaha YXZ. That is unique enough but to top it off he won a set of tires 2 years ago and had to tie them to the top of his Yamaha the same way!
In the end the Discount Tire Raffle was a huge success and we had the opportunity to make some new friends.
Today we will be making breakfast for all drivers and participants before the start of guided trail rides. Eric and I will be hitting Moab Rim Trail and helping anyone that needs it.
Stay tuned for more action!!!
Here are a few teaser photos from this mornings Discount Tire and Raceline Wheels sponsored breakfast as well as some photos from the Moab Rim guided trail run.
Stay tuned for more updates!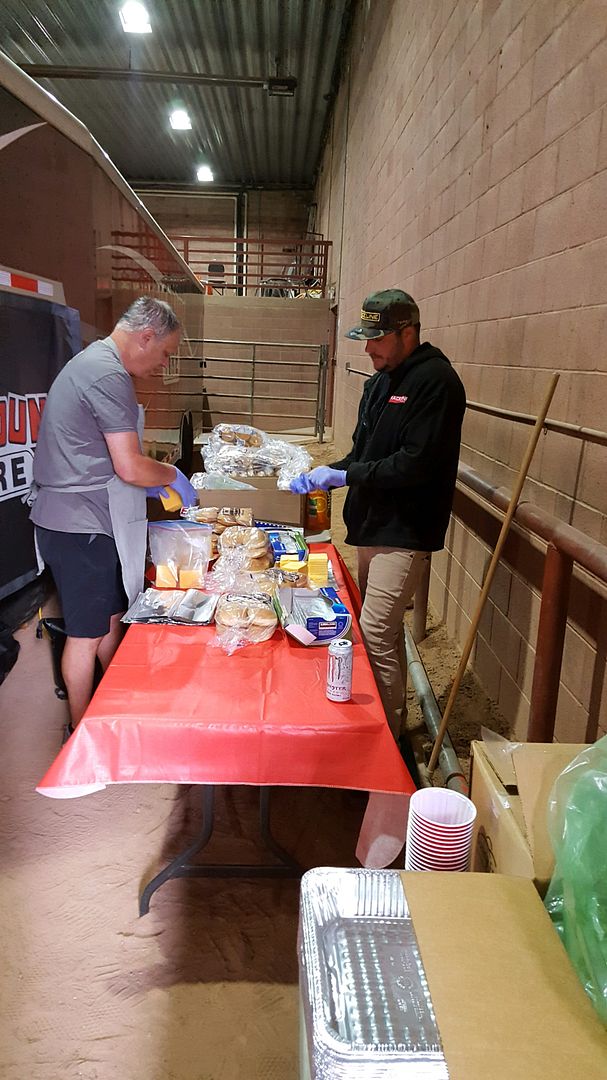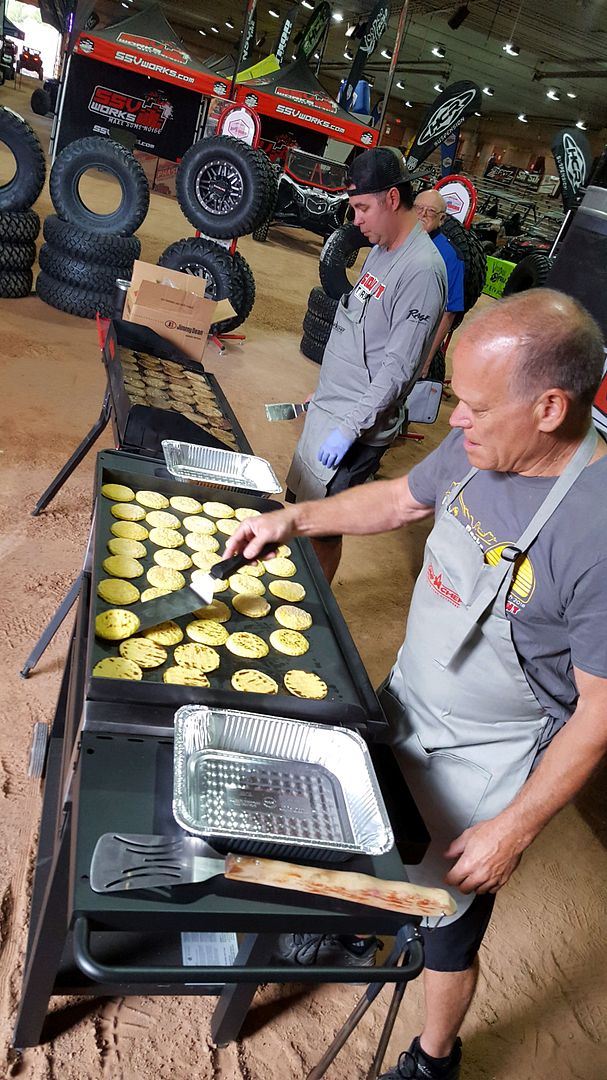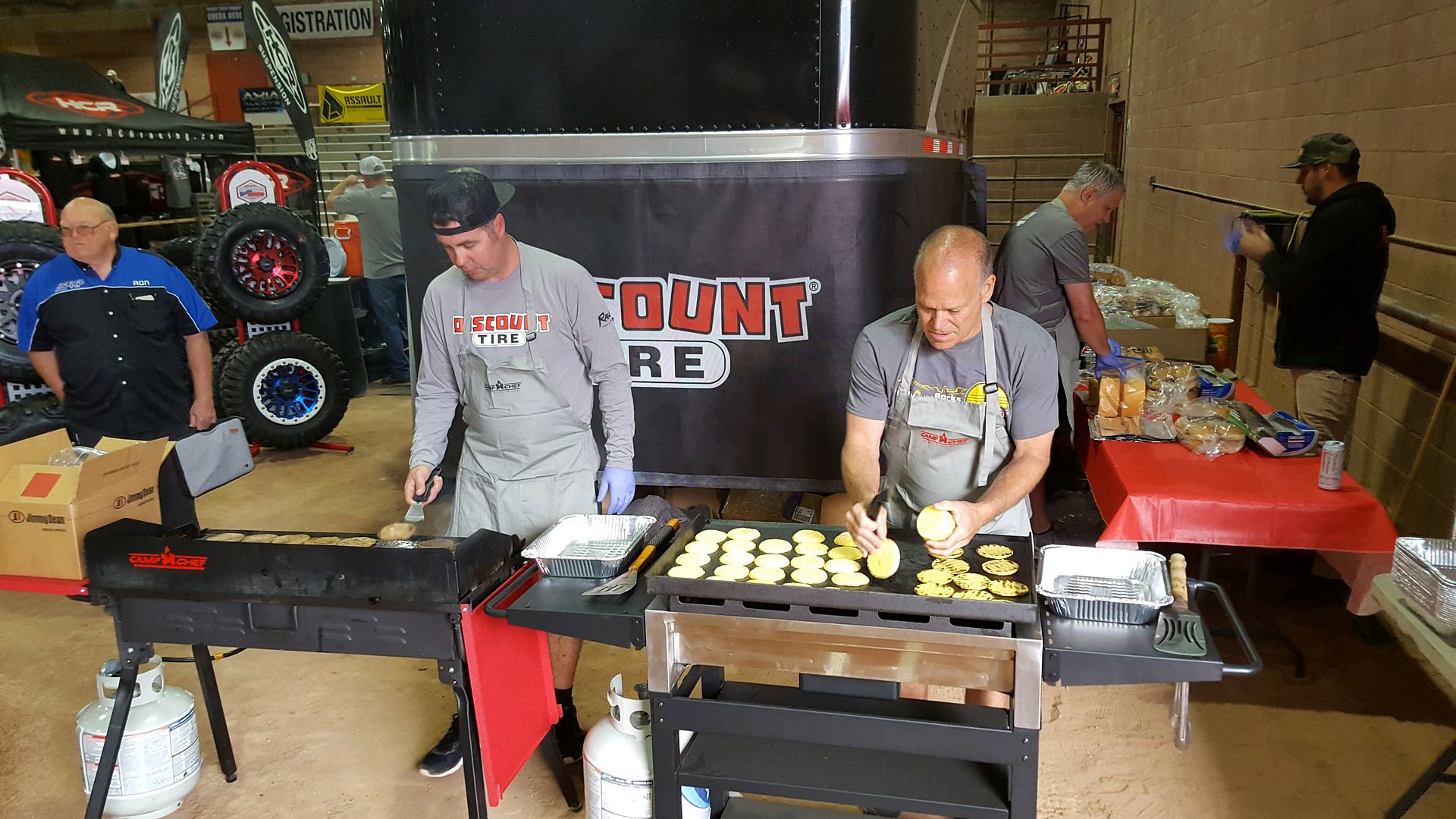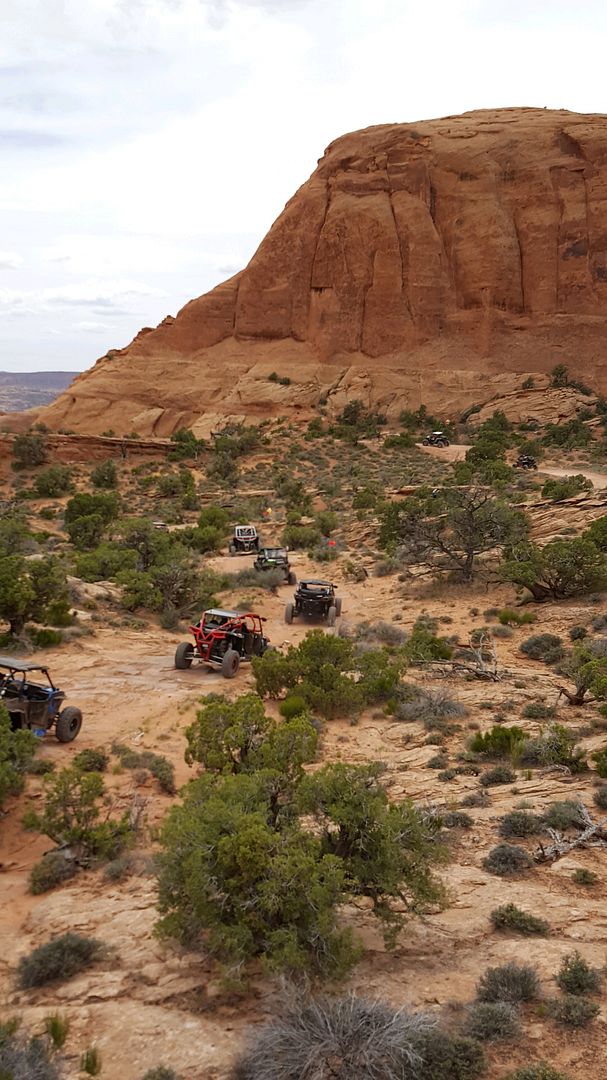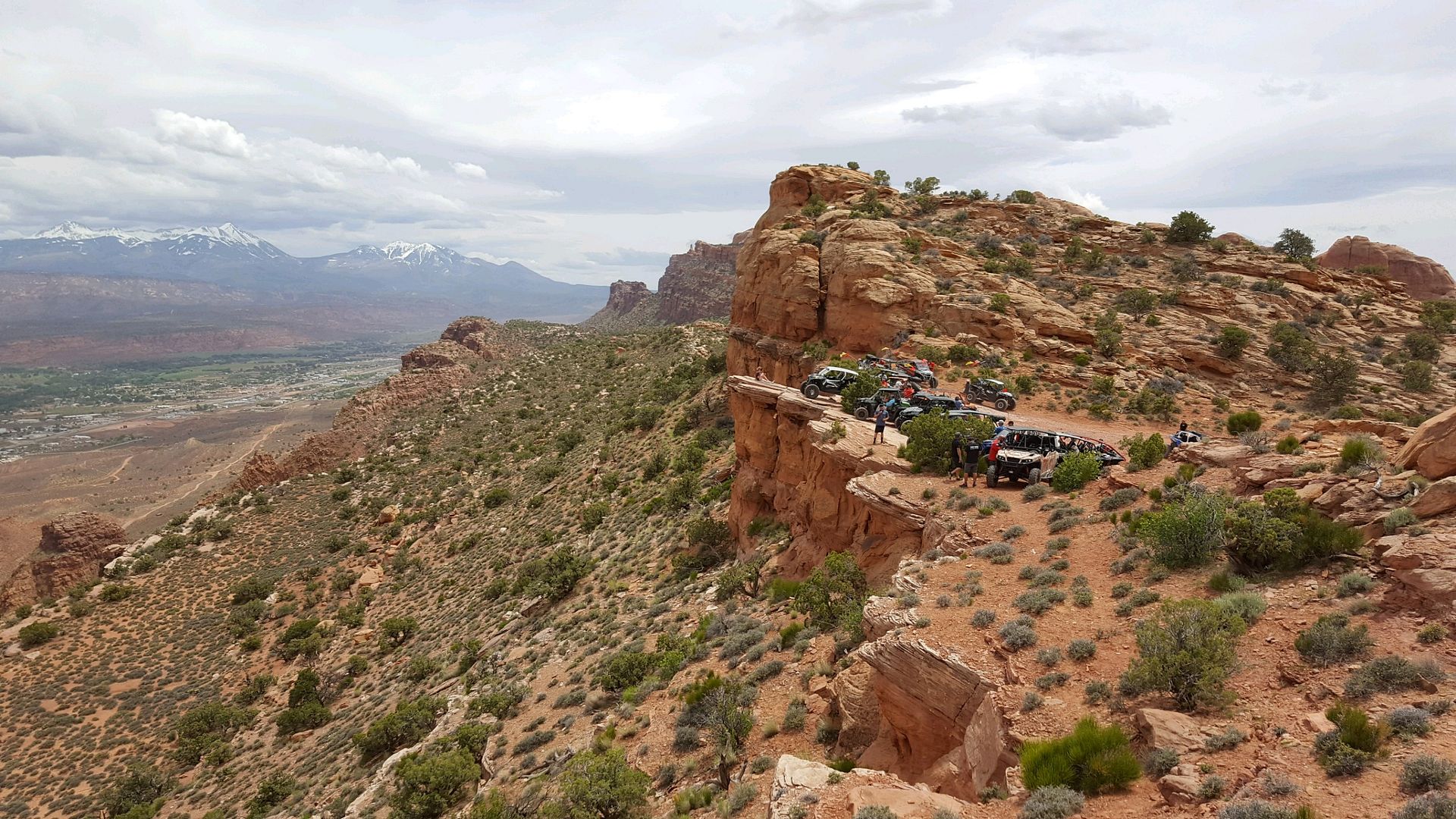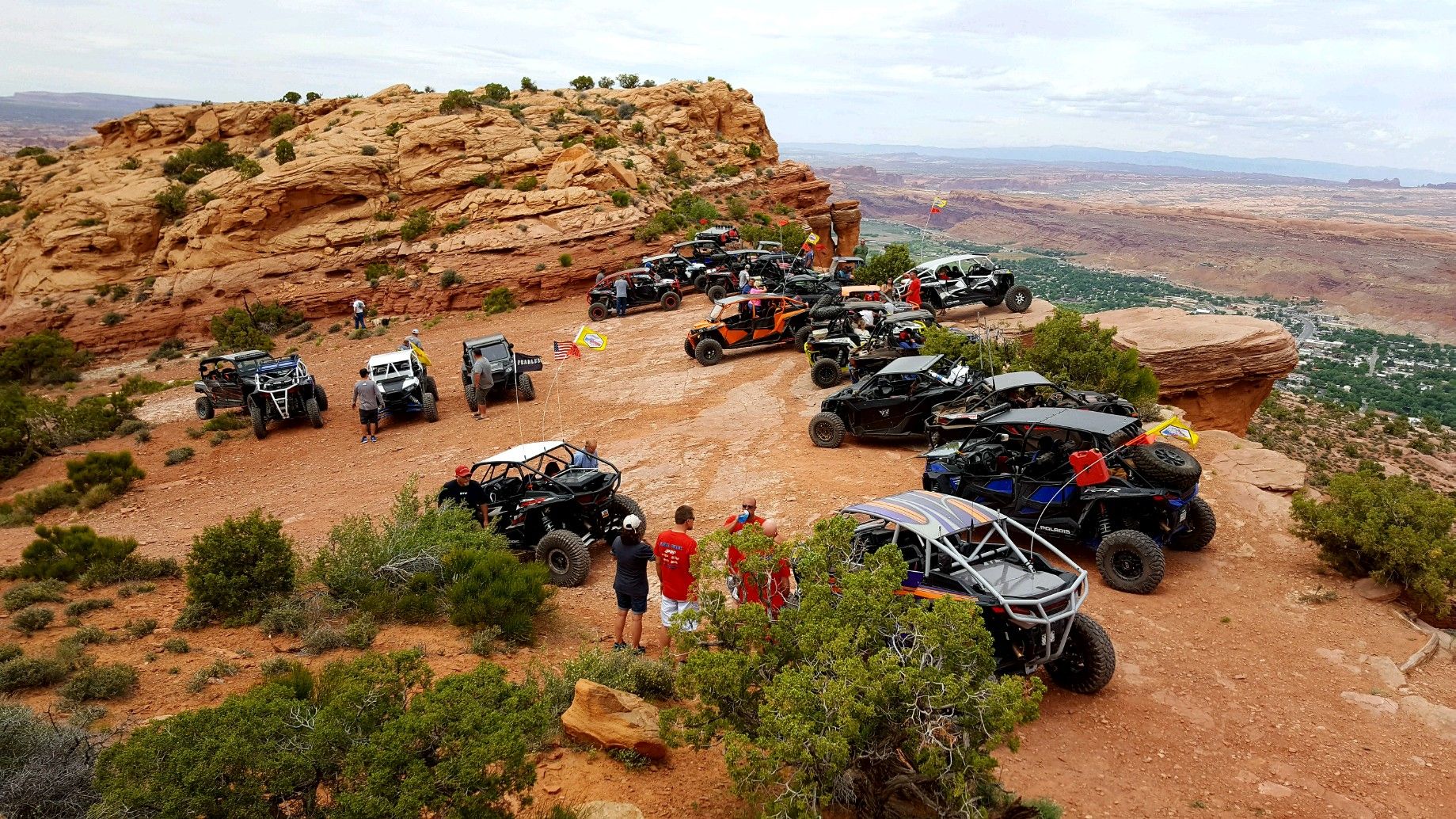 Yesterday morning the Discount Tire team was
up and at'em
early at the Spanish Trails Arena making breakfast sandwiches for all the participants!
In typical Discount Tire fashion, we worked together to make 500 delicious sausage and egg sandwiches for anyone that wanted one. It was awesome to see the team put everything together so quickly!
Some friends came over to join in on the fun and help out as well. It's always nice to see how infectious it is to give back to the community. We saw some of the people that were at the Discount Tire Ice Cream Social/Raffle come over to get some food. The little girls that kept making runs to the ice cream cooler showed up as well. We made sure to tell their parents that there was still some ice cream in the cooler and to make sure the girls grabbed one if they wanted one. Why not? they are here on vacation.
After everyone had their bellies full it was time for us to go get in line for the Discount Tire Sponsored ride on Moab Rim! This is one of our favorite trails - an update from this ride coming soon!