Discussion Starter
•
#1
•
Went to the Dirt Riot Race in Colorado last weekend, was having a good race. I was leading two Wildcats with my Prowler, had some good lap times being laid down...but then an overdose of adrenalin caused the right foot to apply a slight amount of excessive pressure on the go-pedal and somehow the car overshot a roller hill and slammed the next hill... broke one wheel, ripped a-arms out of their mounts, tweaked the frame and launched us airborne again where we proceeded to take out a tree.. then, thinking I could still race, I backed out of the tree, tried to drive forward and only made it about 20ft..then the car slid over to the edge of the course and almost down a steep embankment (50ft to the bottom).. so I climbed out of the car to see what the damage was, then slipped while getting out, inverted and tumbled down the hill (sure wished someone would've been filming, it would win America's Funniest Home Videos). After making my way back up the hill, I realized the car was toast... My daughter and I walked the 2 miles back into the pits and had to wait till later in the day when we could get a big rock crawler to go drag my car out of the hills....
But the story doesn't end there....
We finally got the car loaded on the trailer and were heading home... McElmo Canyon in Colorado is a beautiful canyon,,,very scenic...guess the deer think it's a great place to hang out too...
Out of the tall grass on the side of the road jumped a 2point buck... right into the grill of the truck...
Everyone is okay (except for the deer, I don't think he could be saved, he was pretty mangled..)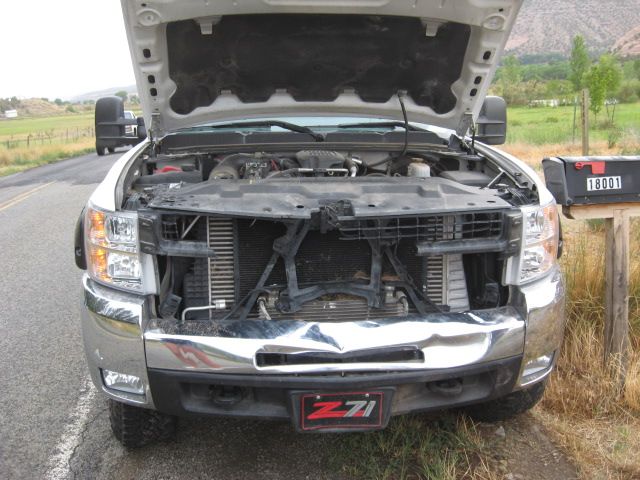 So how was your weekend? Mine was fun, but not sure I want a repeat...
The race promoter just called me to make sure everyone was okay...they are thinking about starting a new award for their race series for the person that has the worst luck... it'll be called the Dunlap Hardluck Award... LOL
But Todd Stephensen in a Wildcat did take 1st and Brian Rector(?) took second in a Wildcat..so Arctic Cat did make a good showing.. Todd even went out and was passing 4500 and 4600 Mod Jeeps in the next race...
I will say, if you ever get a chance to run a Dirt Riot Race, do it, they are a blast... Rich does a great job of putting together a fun event..