Discussion Starter
•
#1
•
Joey D. Rippin up the new 2011 Arctic Cat Prowler XTZ 1000​
I was lucky enough to get to go on an amazing adventure with Arctic Cat and Americas Adventure Tours ( a UTVUndeground Sponsor) to the North Rim of the Grand Canyon all off road from mesquite, NV for the 2011 Arctic Cat Model Year Intro. It was one of the coolest off road adventures I had ever been on. We did over 300 miles all off road in brand new fresh off th eassembly line Arcitic Cat Prowlers.
I was amazed at how well these vehicles took the abuse that was thrown at them. With the exception of a few blown tires there was no major failures on any of the vehicles. We traversed rocky sections, sandy washes, mountain trails, rough roads, and high speed drifting switch backs.
While I would have love to see a sport specific model be introduced I was more than impressed with the Prowler XTZ 1000 and its capabilities. The motor and power is phenomenal and useable throughout the entire RPM range. Cargo capacity is great, and comfort was exceptional. The new Electronic Power Steering is really great at low speeds and when running in 4wd. The additin of Big Horn tires was a huge plus and I will note non of our tire failures were on Big Horns. While I would love some long travel suspension th estock suspension worked surprisingly well especially at high speeds.
In all I was very impressed with the Arctic Cat lineup and look forward to driving the new Prowler XTZ 1000 again!!! \
Look for more info in an upcoming issue of UTV Off Road Magazine and on UTVGuide.Net where we will be highlighting our trip and discussing the vehicles even further!!!
PROWLER XTZ 1000 (EPS)​
Big-Bore Performance at its Finest
Nobody can talk enough about the big-bore performance of the Prowler XTZ. The Baja race-winning XTZ returns for 2011with an all-newrace-inspired round tube canopy, Electronic Power Steering (EPS), newsteering wheel, digital gauge and heavy-duty 14-in. aluminum wheels.
Electronic Power Steering – new to the Prowler XTZ for 2011 – enhance the 1000's industry-leading handling. Arctic Cat's Variable Assist EPS allows steering assistance to the XTZ before it even starts tomove at idle. This is a
huge benefit to conserving the rider's input energy when in 4WD, especially when the differential lock is engaged. Arctic Cat EPS reduces the torque necessary to steer the XTZwhen changing direction with a loaded cargo box or navigating tough obstacles like rocks, deep mud or logs.
Joey D. gettin it on in the Prowler XTZ 1000
​
Combining one of the industry's largest engines with sport-inspired suspension geometry, the performance minded Prowler XTZ provides the ultimate in untouchable recreation.
Arctic Cat engines have power where it matters: the ground. Arctic Cat H2 engines have more pulling power,more climbing power and more acceleration. The powerhouse 1000 V-Twin H2 has a 951cc, 4-stroke monster performance mill. The Duramatic automatic transmission has dynamic engine braking with Low, High, Neutral and Reverse.
New Dash and Tach configuration​
The stance and suspension were race-bred and performance-calibrated with additional ride-in. What is ride-in? The Prowler XTZ will squat roughly 2 inches (depending on driver/passenger sizes) while providing 10 inches of ground clearance and 10 inches of suspension travel. The lower ride height and center of gravity inspire riding confidence in aggressive cornering and high speed handling. The XTZ boasts high performance suspension geometry with the best gas-charged monotube shocks on themarket.
Gas Charged Monotube Shocks
​
A front locking 4WDdifferential with an all-in-one 2WD/4WD/Diff Lock rocker switch button for quick engagement shifting and rearmounted swaybar for improved trail driving.
NEW FOR 2011​
COLORS
•MetallicWhite or Viper Blue
SHOCKS
•High-Performance
Ryde FX gas shocks
SPORT CANOPY
•ROPS compliant, Baja-inspired
round tube canopy
GAUGES AND STEERINGWHEEL
•Digital gauge redesign with
seat belt indicator light and
newsteering wheel
THROTTLE
•Redesigned foot throttle with
lighter actuator spring
PARKING BRAKE
•Console-mounted automotivestyle
parking brake
LEADING FEATURES
• 951cc, SOHC 4-stroke, 4-valve, V-twin, liquid cooled enginewith EFI
• An Arctic Cat produced performance engine built in the state-of-the-art
St. Cloudmanufacturing facility.
• 3-point seat belts
• Rearviewmirror
• 600-lb. box payload capacity
• 2-in. front and rear receiver hitches
• 14-in. aluminumwheels
• 1,500-lb. towing capacity
• 5-Position Tilt Steering – lever activated for easier entry/departure and
leg room
• Tool kit is convenientlymolded into the passenger side seat for easy access and secure fit.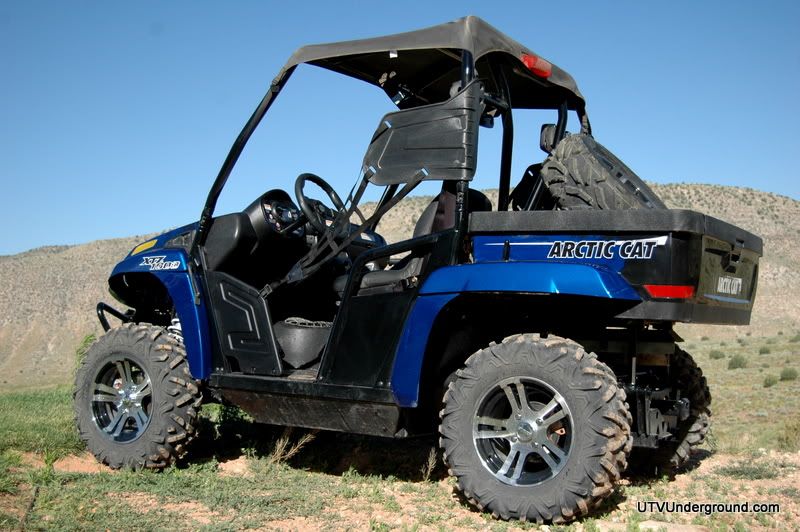 For specs and more info visit:
NEW 2011 Arctic Cat Lineup **UTVUnderground EXCLUSIVE** - UTVUnderground.Com - The #1 Resource for SXS Enthusiasts